On Thursday, September 21, 2017, the Palo Alto Patagonia played host to the first SHRED-X, a sustanable surfing inspired event to show the community some of the possabilites to enjoy surfing while still caring for the planet. This is a breif summary of my experience attending the event.
Full disclosure, I'm not a super huge surfer. I've surfed, and I enjoy it. I would like to do more of it, but it's really my brother who is very invested in the sport. I am, however, interested in reducing my carbon footprint, hence my interest in sustainability. This event was also happening right next to my office on a night where I was free.
The event started at 7pm and I stayed until they did the lottery at around 9 pm. It started off with some food and beverages. I was very excited to finally try Long Root Ale.
I've been hunting for this beer since I found about its existance. It's a product produced by Patagonia Provisions and it uses a peranual crop instead of crops that need to be replanted every year like wheat and barely. If you are a fan of IPAs you will probably enjoy this beer. Being not as big fan, it's going to need to be a really hot day for me reach for one of these.
The partner organizations were set up around the store. Many people showed up to browse all the products.
SUGA mats makes yoga mats out of recycled wetsuits. They take old wetsuits, grind them up and then bond them together into yoga mats and surf changing mats. They often a program where you can buy a lifetime gaurnetee on the mat and if your mat wears out, you send it back and they will recycle it and send you a replacement. I got t meet the founder, Brian. He was great. Very excited to order a couple of mats and to see what they come out with next.
Waste To Waves is a company that takes waste products and and turns them into products you can use in your active life. As you can see in the picture above, they take used corks and turn them into products like yoga cork blocks and surfing traction pads. They help a company called Mafia take used sail frabic and turn it into bags and pouches. They also help take used plastic and turn it into board fins. It is awesome to see some great products that are made from recycled materials.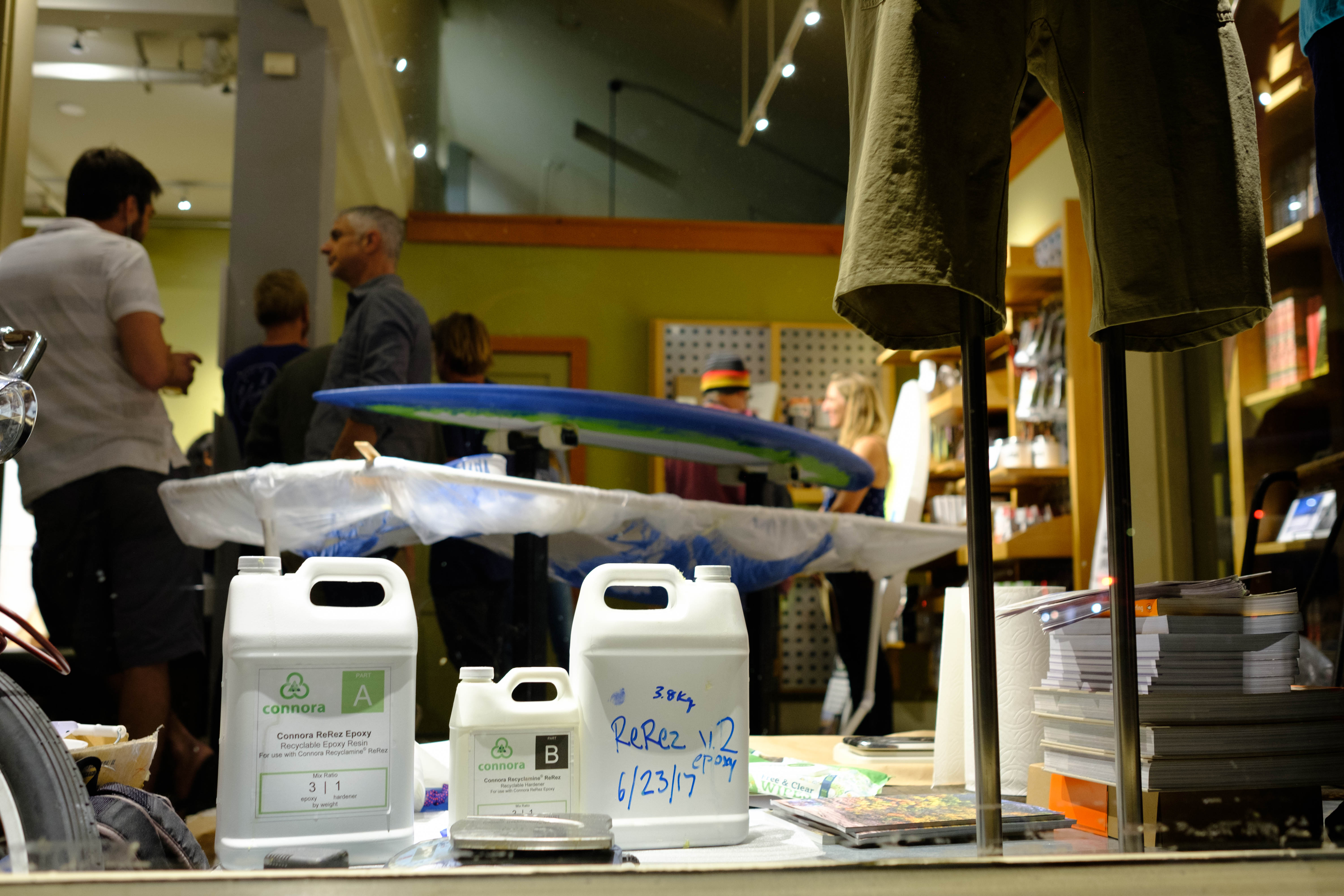 Connora Materials is a company that is making resins made without petroleum. This means that you can coat your surfboard without using a harmful petroleum products. They did a live demo of the their process during the event. There were also a couple of their boards floating around that were really gorgeous. I will definitely look into having my next board finished this way.
The main event was a talk about how sustainability is moving into the world of surfing and how we as environmentally conscious surfers can do a better job of protecting the oceans we love. It was a really compelling talk and I would definitely go to another one of these events if they put it on. SustainableSurf.org is the company that put together the event and is an investor in many of the different sustainable products discussed.
Anyway, here are a bunch more photos from the event. Check out the captions for quick notes about each photo.
Here are a bunch of people looking at products from Waste To Waves.
This is a 3D printed surf board made from recycled plastic bottles.
Here's a closer look at my favorite product from the event, a back pack made out of really previously used sail fabric.

The full Suga display.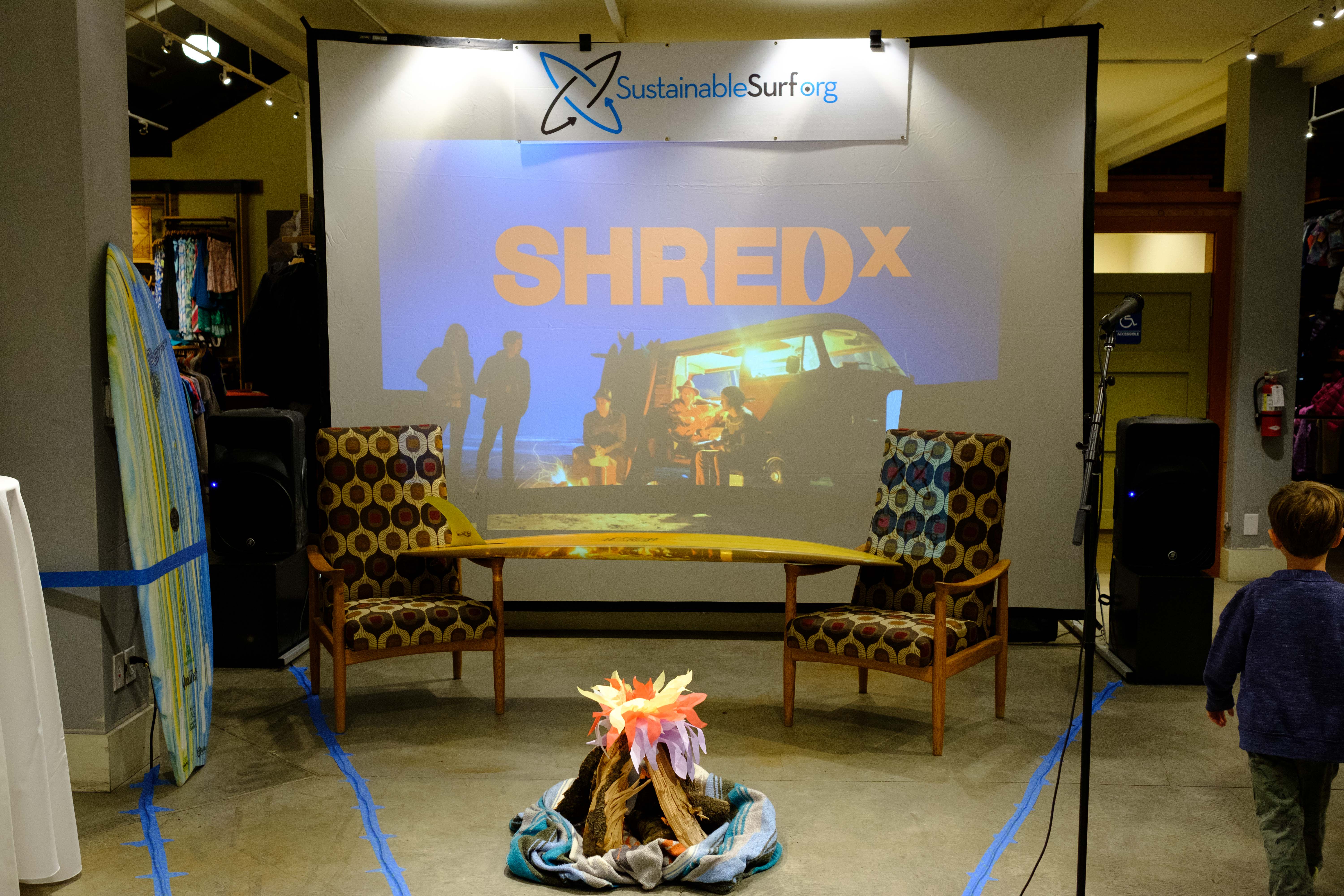 The sight of the campfire chat.
I have never seen the store so busy.
SaveSave